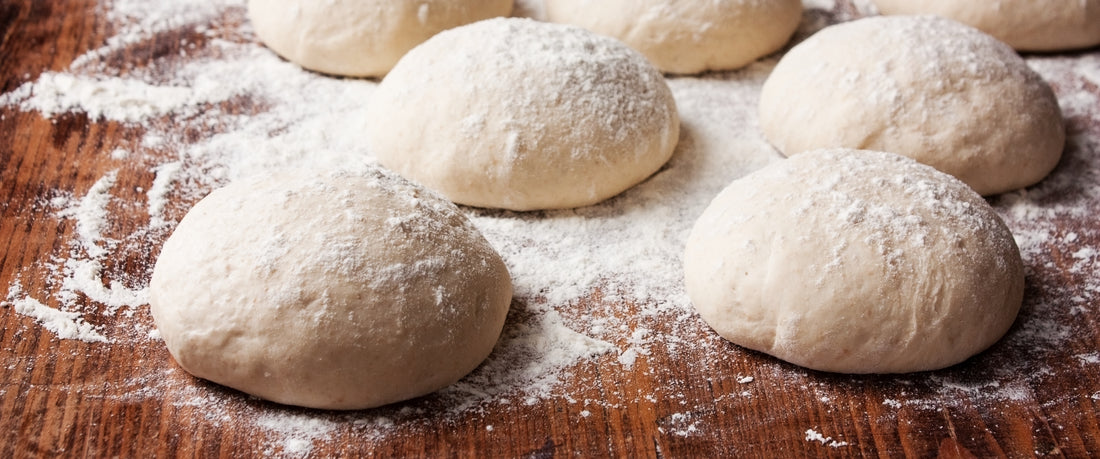 Roberta's Classic Pizza Dough Recipe
If you're looking for the best homemade pizza dough recipe, look no further than New York City. We have sampled more than a few pizza dough recipes since the inception of the Stoke Pizza Oven and keep coming back to the same one - Roberta's. Located in East Williamsburg, Brooklyn, Roberta's restaurant has been open since 2008 and has created the go-to recipe for thin crust, Neapolitan style pizza. 
Roberta's recipe uses 2 types of flour: unbleached all-purpose flour, and the Italian pizza flour, type "00" or "double zero." Double zero flour can be difficult to find at an average grocery store, look for it in a specialty grocery store and of course it's always available on Amazon. If you can't find it, it's totally ok to sub for all-purpose. The dough still comes out tasting great. Bonus: when you purchase a Stoke Pizza Oven from Stokestove.com, it comes with a Delallo foods pizza dough kit which includes 00 flour!
When making homemade pizza dough, we recommend using a food scale to get exact gram measurements. The ratio of flour to water is super important and the scale is a small investment to achieve the perfect result.
Recipe - makes two 12-inch pizzas 
Ingredients
153 grams 00 flour

153 grams unbleached all-purpose flour

8 grams sea salt or kosher salt

200 grams lukewarm water

2 grams active dry yeast

4 grams extra virgin olive oil

Extra flour 
Directions
Mix lukewarm water, olive oil and yeast. Set aside. 

In a large mixing bowl combine flours and salt. Then add the water and yeast mixture. Mix with hands until just combined. (No more dy flour.)

Cover the bowl and let the dough rest for 15 minutes. 

Knead the dough by hand for about 3 minutes or until it has a smooth texture. 

Divide the dough into two equal-sized dough balls. 

Place the dough balls on a heavily floured surface and cover. Let rest for 3-4 hours at room temperature or 8-24 hours in the refrigerator. If you refrigerate the dough, take it out 1 hour before shaping for pizza. 

To make pizza, place the dough balls on heavily floured surface. Stretch using your hands.

Heat Stoke Pizza Oven on high for 20 minutes. 

Add toppings to your pizza being sure you can still slide the pizza back and forth on the pizza peel. 

Turn oven down to medium heat. 

Add pizza to oven. After 30-60 seconds rotate the pie. Rotate a few more times if needed.